Tamarang Engineering's 1000 square metre workshop is the heart and soul of the company, where a commitment to quality and excellence has ensured Tamarang Engineering remains the trusted name in metal fabrication for the Liverpool Plains and beyond.
Our team of experienced boilermakers and welders are able to custom design and fabricate work in mild steel, aluminium, bisalloy & stainless steel, from sheet metal to structural beams. 95% of steel used in our workshop is Australian made. With over 35 years of experience, our knowledgeable staff work with you to design, cut and fold almost anything.
Talk to the Tamarang Engineering team today about your custom fabrication needs.
Rural
Located in the food bowl of NSW, Tamarang Engineering have developed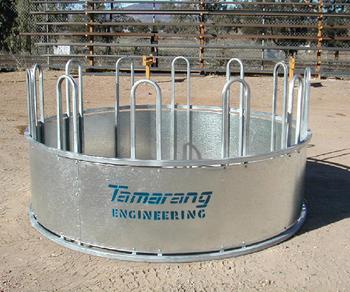 and manufactured rural feeders for over 40 years. By listening to the needs of farmers in the region, Tamarang Engineering have been innovators in the sector, developing products of high quality, durability and reliability. If you want a product that will last, Tamarang Engineering is the team to talk to.
Feeders
Tamarang provides full welded construction of the following feeders:
Cattle Feeders

Horse Feeders

Sheep Feeders
Round Bale Feeder

Large Square Bale Hay Feeder

Hay Feeder
Tamarang feeders have the following benefits:
Australian made from 95% Australian steel

Fully welded construction

Deep narrow troughs to minimise waste

Feed flow adjustment for better control over supplement feeding

Full lid able to be opened from the ground to reduce the risk of sips and falls

Two coat painting system to prolong feeder life and blend in with the environment

Good weather protection
Creep feed gates available

Three weeks from order to delivery

Feeders can be skid towed to desired locations

Special requests can be catered for

Trailer version available for 2 ½ tonne and 4 tonne feeders

Serial number identification

20 year life expectancy based on proper care
Other Rural Products
Cattle Grids

Horse Stable Panels

Feed Out Bins

Planter Disc Scraper Rings

Ramps

Gates

Yards
Modification to most farm items

Truck bodies

Horse floats

Trailers

Dog cages

Repairs to mining machinery (fron-tned loaders and dump trucks, etc.)
Industrial
Tamarang Engineering may be in a regional centre, but our fabrication capabilities extend far
b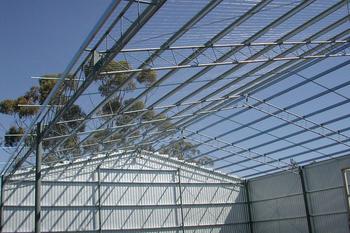 eyond feeders and cattle grids.
With extensive experience in the transport and mining industries (including truck body repairs, train repairs, mine construction, general maintenance, and railway equipment), our projects have also included restaurant fit-outs, racecourse maintenance, and manufacturing toilet blocks.
Our team also constructs sheds, frames, and trusses for customised jobs on request.
Contact us today to learn more about how Tamarang Engineering can assist you with your industrial and commercial fabrication needs.
Transport
Rail
Tamarang Engineering is experienced in the maintenance and repair of rail equipment.
We conduct onsite repairs and maintenance, safety works, including rails, steps and platforms, and provide locomotive parts. Get in touch with our team for help with your rail maintenance today.
Truck Bodies
Servicing the transport industry for over 40 years, Tamarang Engineering are experts in body works, including aluminium tipper repairs, tarping systems, turntables, suspension, steel trays and more. Talk to the team today to find out how Tamarang Engineering can help keep your fleet on the road.
Mining
Tamarang Engineering are highly experienced in the mining industry with a strong connection to the Castle Mountain Zeolite Mine.
We fabricate material handling equipment, apron feeders, augers, conveyors, and elevators, offering onsite repairs and maintenance. Our other mining services include plant shut down maintenance, plant equipment upgrades (rock boxes and shutes), equipment refurbishments, guarding, safety rails, steps, and platforms.