Committed to our local community and the future of the fabrication industry, at Tamarang we partner closely with Quirindi High School to engage students in school based apprenticeships and traineeships.
Through this program we aim to keep the valuable boilermaker trade alive, training our candidates in welding and fabrication. Our current trainee, Liam Faulkner, has offered some insight into his school based traineeship with Tamarang.
Liam has always had a passion for construction and a desire to work with his hands. Growing up, you could find Liam working away in the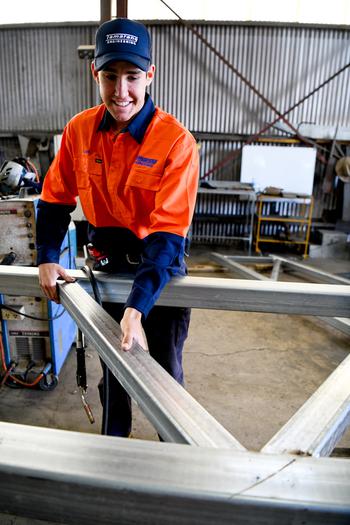 shed with his dad, making small adjustments to things around the house, refurbishing old broken down pieces of equipment, through to building sheds. From a young age, he knew he wanted to work in the construction industry, deciding to pursue a career in metal fabrication during his year 10 studies. Liam focused his year 10 major project around metal fabrication, joining the Tamarang team in year 11.
Once a week, Liam takes part in a practical onsite at Tamarang, and theory in the classroom once a week also. The traineeship was conducted over two years, covering the duration of Liam's senior school years. As part of the program, candidates have four requirements to fulfil: work one day a week during the school term, work half of all holidays, have participated in 100 days of work on completion, and complete a certificate I in metal fabrication and welding at TAFE.
Liam's favourite aspect of working at Tamarang is the variety of jobs that come through the workshop that he has the opportunity to work on. This enables him to increase his skillset and development, and gain knowledge and capabilities over a range of projects, rather than specialising in one thing. Liam enjoys the environment at Tamarang and says the 'lads' he works with make it very enjoyable.
Upon completing his trade, Liam has a number of paths he is interested in pursuing, but hasnt narrowed it down to one as of yet. He highly recommends the program to other students as it was a great experience that allowed him to gain firsthand experience whilst being at school.
To learn more about partaking in a school based apprenticeship or traineeship with Tamarang please reach out to the team.
Back to Blog